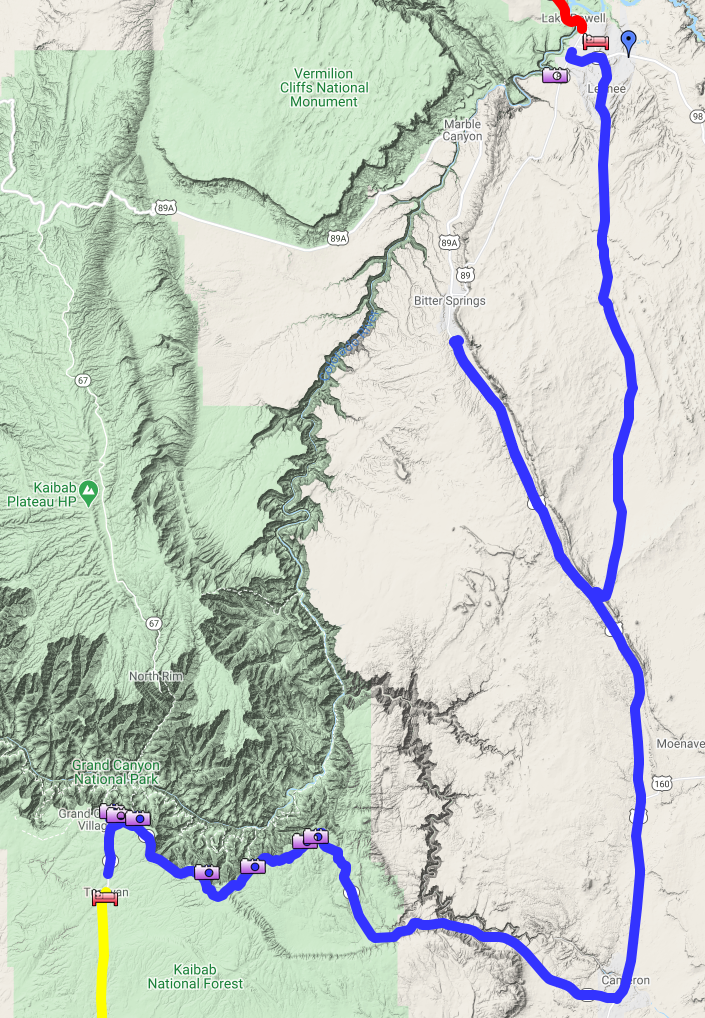 Day 13: The Canyons
Wednesday, July 15th, 2009
Every single destination along our entire road trip was well researched, but today's first destination - the Antelope Canyon - was the one that probably required the longest time to plan, simply because I was
really
interested in visiting this famous slot canyon at the right time of the day to be able to capture
the
perfect light conditions.
Antelope Canyon is a popular location for photographers and sightseers, and a source of tourism business for the Navajo Nation. Private tour companies have been permitted to offer tours since 1987. It has been accessible by tour only since 1997, when the Navajo Tribe made it a Navajo Tribal Park. Photography within the canyons is difficult due to the wide exposure range created by the light reflecting off the canyon walls.
There are many interesting option offered to experience the slot canyons, which are located just a few miles outside of Page, AZ. We opted for a 
2-hour extended photographic tour
 of the Upper Antelope Canyon, which is, by far, the most visited of all the slot canyons in the area.
Upper Antelope Canyon is only 600 feet long, carved through what looks (from the air) like a single sandstone formation. Much of the canyon is so narrow that you can touch both walls with your hands at the same time. The downstream opening of the canyon is bright with three big "rooms." The rest of the canyon is much darker and narrower.

Most of the photos you can find online of Antelope Canyon were shot in the Upper Antelope Canyon. At certain times of the day and year, shafts of light come down into the canyon. Photographers often kick up sand or dust into the light shafts for interesting photographic effects.

A long time ago, herds of pronghorn antelope roamed freely in Antelope Canyon, which explains the canyon's English name. It is not known exactly when people first discovered Antelope Canyon. According to local Navajos, who have lived here for some time, the canyon and the LeChee area were places where cattle grazed in winter. 
To older Navajos, entering a place like Antelope Canyon was like entering a cathedral. They would probably pause before going in, to be in the right frame of mind and prepare for protection and respect. This would also allow them to leave with an uplifted feeling of what Mother Nature has to offer, and to be in harmony with something greater than themselves. It was, and is, a spiritual experience.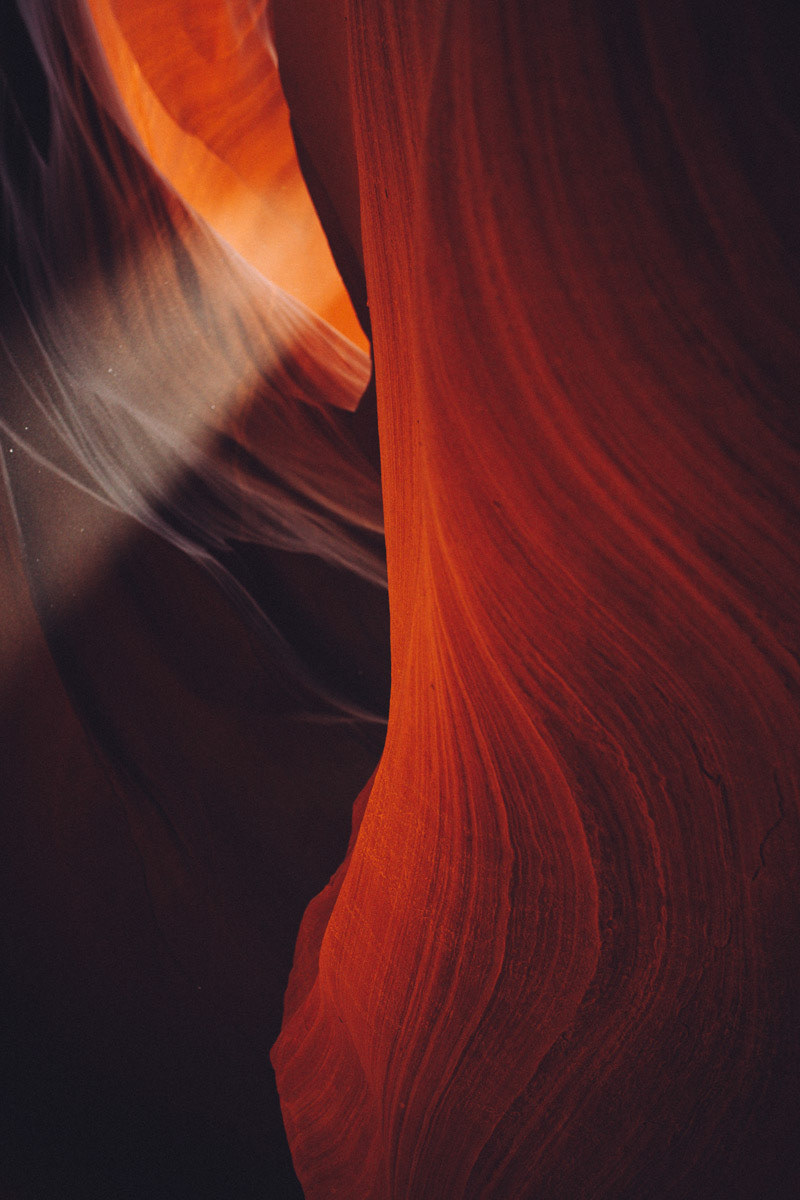 To the unprepared photographers, the Upper Antelope Canyon is an incredibly stressful experience, nothing like the cathedral-like solitude implied by the images. 
The rush of people running up and down the canyon and fighting for a clear view of the narrow passages turns this amazing place into an incredibly stressful environment. 
An environment which is made even more stressful to photographers by the extreme dynamic range, ubiquitous dust, and a seemingly infinite number of composition decisions.

On our first visit to the Upper Antelope Canyon I had no expectations or plan. Getting something absolutely unique in such a heavily photographed location is pretty tough. After having followed our Navajo guide, which allowed us to capture a handful of cliché (albeit beautiful) shots, I ended up focusing mostly on tighter and more abstract shots that feature compelling aspects of a larger scene, while Yasuko focused or rock/light shapes and relationships.

What I highly recommend to any photographer that wants to visit this unique location is to pay the extra money for the
photo
tour. A photo tour will put you with like-minded visitors who will more respectfully understand that a flash causes more problems than it solves, that it is not okay to walk in front of someone with a camera or to bump into a tripod, and that they need to get out of the way as soon as they get their shot. 
Your guide will know the timing of the beams down to the minute and will do anything possible to get you there at the right time, even throwing sand in the air for you while you focus on getting the shots. Not only that, photo groups get an extra hour (for a total of two hours) in the canyon. While this extra hour comes after the light shafts have already passed, it is also when the canyon becomes much less crowded, which means that it is during this extra hour that you will be able to work undisturbed on some more creative abstract photography.

To cite 
Gary Hart
, "what you get from Antelope Canyon is ultimately up to you and the attitude you bring. Enter with reasonable expectations, slow your mind, look up a lot, and whatever you do, don't forget to occasionally disconnect from your photographic needs long enough to appreciate the unique beauty of this genuine natural wonder."
At the end of this visit, I was so mentally drained that I literally don't remember where we went to grab some lunch. All I know is that in the afternoon we drove south and reached the south rim of the Grand Canyon an hour or so before sunset. Our first stop along the rim was the Desert View Watch Tower, located at Desert View, more than 20 miles to the east of the main developed area at Grand Canyon Village, toward the east entrance to the park. 

Next, we drove a few miles west and stopped at Grandview Point to wait for the sunset which, thanks to some interesting cloud formations near the horizon, was extremely spectacular.